Mother's Day Gold – Plant-Based Chocolate Hamper
Mylk & Dark Chocolate
• Gluten Free, Vegan
$90
A delicious selection of chocolates in an Only Mine hamper box perfect for Mum's like yours. Vegan & Gluten Free.
Includes:
1 x Premium Hamper Box
1 x 10 Pack Vegan Classic Collection
2 x Gourmet Chocolate Bars
1 x Classic Chocolate Bar
1 x Dark Chocolate Hearts
1 x Coconut Caramel Koala Twins
3 x Dark Chocolate Animals.
Out of stock
FREE GIFT NOTE
SUSTAINABLE
HANDMADE
IN THIS HAMPER
Vegan Classic Collection - 10 Pack

Mylk & Dark

Chocolate Hearts

Dark

Coconut Caramel Koala Twins

Dark

2x Gourmet Bars

Dark

Classic Bar

Dark

3x Chocolate Animals

Dark

Premium Hamper Box
INGREDIENTS
Vary based on selection. If you have specific dietary requirements please leave them in the order notes and we will do our best to accomodate.
SHIPPING
All Only Mine orders are sent via Express Post. $10 shipping within Victoria, $15 shipping in all other states, Free shipping on all orders over $100. Shipping in Australia only. Ice packs are included in warmer months to ensure a safe delivery. Orders are dispatched next day if placed Sun-Wed, orders Thu-Sat are shipped on the following Mon excluding public holidays.
REVIEWS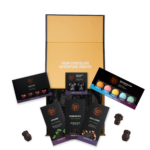 Mother's Day Gold - Plant-Based Chocolate Hamper
Mylk & Dark
Out of stock